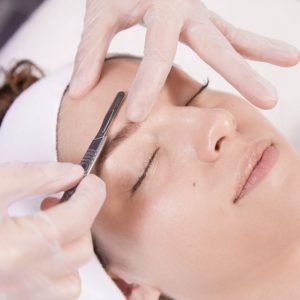 Dermaplaning for Dewy Spring Skin
Spring is here.  We love to feel renewed, refreshed and beautiful. Bright, clear, dewy skin will give you that spring renewal feeling, and it is in reach with this favorite treatment.
Dermaplaning is the sweetheart of estheticians for many reasons.
Instant results for instant gratification.  Dermaplaning exfoliates the skin and immediately diminishes fine lines and wrinkles.  Anti-aging without the chemicals.   It also creates a radiant, dewy appearance.
Increases skin's absorption abilities for products. It is important to prime the skin so that it can benefit from the products you are using.  When the skin properly absorbs products, it shows!
It can be added to any facial treatment.  Dermaplaning is the perfect complement to any facial treatment.  It gently exfoliates dead skin cells and removes fine hair (peach fuzz) on the face.
It's a great treatment for Brides, one week before the big event.  Bridal Makeup will look amazing.
Anna Lotan Protocol
 Cleanse with Sebafoam Mild Facial Cleanser
Tone with Brightening Toner – if the skin is oily gently wipe with Alcohol to remove any excess oil.
Dermaplane
Peel/Repair- Carrotinol Peeling Enzymatic Massage Peel- massage for 5 minutes to gently exfoliate, hydrate and restore barrier support suitable for even the most delicate skin. Remove with tepid water.
Mask:  RedEx Cooling and Soothing Mask for calming and hydrating (HA, Aloe Vera, Chamomile, Green Tea) or Soothing Moringa Mask to calm and soothe (Moringa Oil & Aloe Vera). Leave on for 15 minutes.
Hydrating Serum- First of All Quenching Serum
Brightening Serum- Enlight Brightening Booster
Moisturize- Morning Dew or Sleeping Beauty
SPF- Rosease Gentle Protective Moisturizer SPF 30