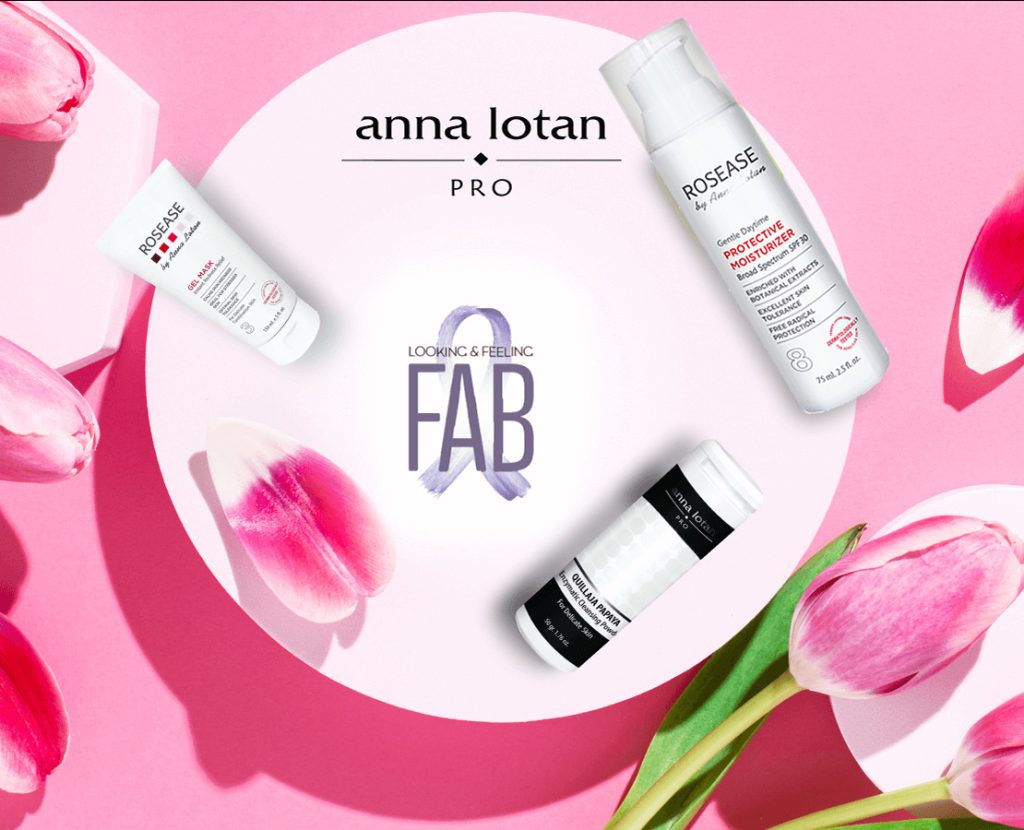 Anna Lotan PRO and Looking & Feeling FAB – Combating Side Effects of Chemotherapy on the Skin
Chemotherapy is a treatment that uses drugs to kill cancer cells. Unfortunately, this type of treatment can also have some unpleasant side effects on the skin. Common side effects include dryness, itchiness, redness, darkening of the skin, and peeling. You may also find that you are more sensitive to the sun and may get sunburns more easily. Your nails may also become darker and cracked, and your cuticles may hurt.
It is important to remember that these side effects vary from person to person, and not everyone will experience them all. If you are experiencing any uncomfortable side effects, be sure to speak to your doctor about it. There may be ways to help relieve the symptoms.
About Looking & Feeling FAB, INC.
Looking & Feeling FAB, Inc. (LFF), founded in 2013 by Holly Brown, LE, Oncology Trained, is the industry leader in treating skin side effects from cancer treatment. LFF is the first nonprofit in existence that concentrates exclusively on treating these side effects. LFF has treated more skin issues for Oncology patients than any other organization. They have seen hundreds of skin reactions from chemotherapy, radiation, surgery, targeted and immunotherapies and helped hundreds who would otherwise suffer in silence.
Anna Lotan PRO in collaboration with FAB
In collaboration with FAB, Anna Lotan PRO has developed an effective line of products and protocols for treating skin reactions from cancer treatment. With unparalleled experience and expertise, Anna Lotan PRO's products are safe and reliable – whether dealing with a mild irritation or a more severe case, Anna Lotan PRO has the perfect product to help.
Anna Lotan PRO offers a variety of services including skincare consultations, education (to estheticians) on how to take care of the skin during chemo, and treatments to help relieve symptoms and improve skin's appearance.
Most people think of skincare in terms of the products they use to cleanse, moisturize, and protect their skin from the sun. However, for cancer patients undergoing treatment, skincare is much more than that. The side effects of cancer treatment can take a toll on a patient's skin, making it dry, sensitive, and susceptible to infection.
The risk of skin side effects differs from patient to patient and requires a well-thought-out course of treatment. When recommending products for clients, it is important to avoid ingredients that may interfere with treatment, cause irritation, or lead to cancer.
This is why it is so important for cancer patients to seek out the help of a qualified skincare expert who can customize a treatment plan specifically for them. Our goal at Anna Lotan PRO is to help cancer patients feel better about themselves when they may be feeling their worst.
Anna Lotan PRO's Oncology Skin Care Products and Protocols
In collaboration with FAB, Anna Lotan PRO has developed three protocols for estheticians, dedicated to patients currently undergoing chemotherapy:
The treatment plans are based on Anna Lotan PRO's newly released Rosease skin care line. The gentle, bio-mimetic formulations of the Rosease line of derma-cosmetics ensure optimal skin tolerance and target specific manifestations of skin redness such as: minimizing visible redness, reducing inflammation, and cleansing the skin to retrieve its natural barrier functions.
Our ingredients are backed by extensive research, so you can be confident that they will provide the best possible care for your patients, without having to worry about their safety.
If you or a loved one is undergoing cancer treatment, we encourage you to contact us, and Looking and Feeling FAB, Inc., today. We'll be happy to answer any of your questions and help you develop a skincare plan that will leave you looking and feeling your best.