Partner Esthetician Stories
According to our partners and their clients, our products and treatment protocols work wonders.

Browse before and after stories from licensed estheticians to learn how our professional products and expertise positively change the way skin looks and feels.
Treating rosacea, manifesting through red, inflamed skin, with the ROSEASE line
L.R. client testimonial: I have always struggled with red, inflamed skin, which got even worse after I had my first baby. I was quickly diagnosed with rosacea which was frustrating. I used many different tools to help, which all took time, lasers and medication included.
Alexis Robertson owner of ALXS SKN GYM in Boston, performed the Anna Lotan PRO Rosease Protocol for Oily Skin on L.R. (client's initials); afterward, she was sent home with homecare.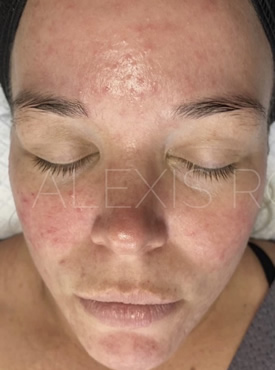 L.R. client testimonial: I recently tried the ROSEASE line from Anna Lotan PRO, and my mind was blown. It hasn't even been a full week but my normal everyday redness is minimal, which is so relieving for someone who just wants to "wear her own skin" and not try to cover up with make up. It is wonderful to have products that are actively supporting my issue, that are available in an everyday regimen.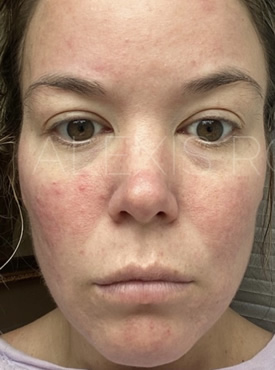 Alexis Robertson owner of ALXS SKN GYM, Boston: This client has struggled for years with her skin. She's so happy with ROSEASE. This ROSEASE is a miracle!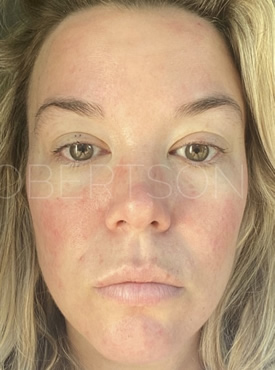 Alleviating Inflammation and Blisters with the Sebafoam Cleanser and Jerusalem Balsam
During recovery from surgery, a client was prescribed antibiotics. While the antibiotics killed the bacteria, they left no defenses for the mold. The client also received aspirin to prevent a fever. Aspirin causes blood vessels to dilate, so heat is lost through the skin through sweating. With this now moist environment, the mold was in its favorite habitat and multiplied, causing the immune system to respond with inflammation and blisters.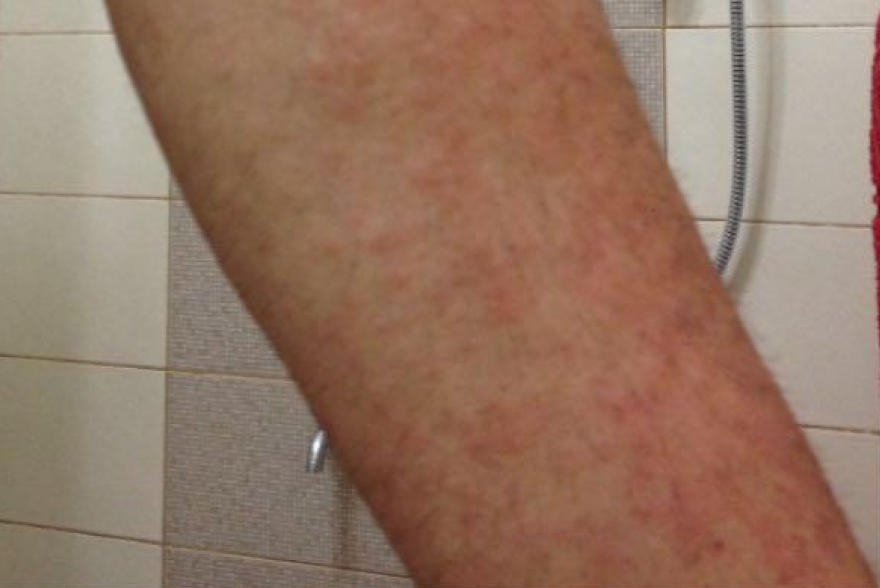 The Anna Lotan PRO member serving the client offered a treatment consisting of the Sebafoam Cleanser and the Jerusalem Balsam. Using
these two products, the client experienced the relief he needed, with evidence showing how inflammation turned into blisters that ultimately dried out.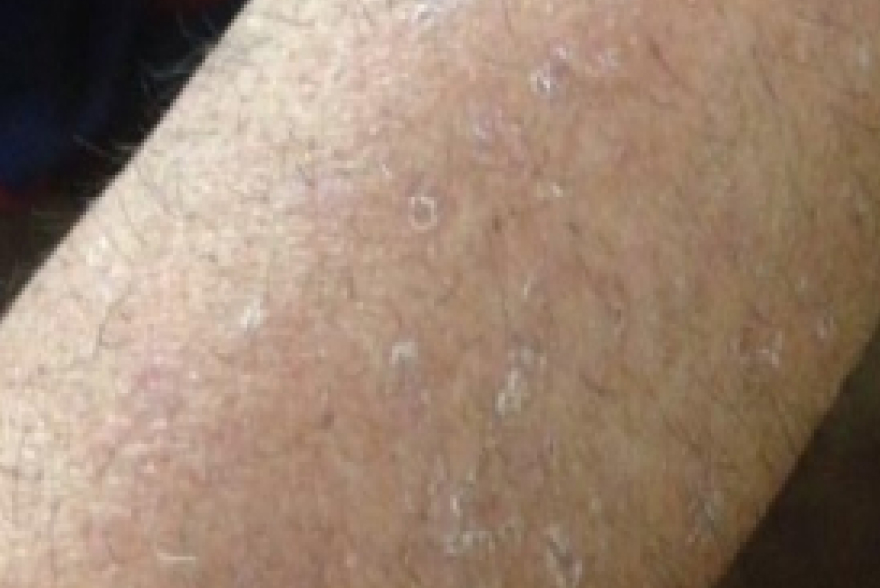 As depicted, the dry dead cells effortlessly washed off after treatment, leaving behind smooth, calm, and healthier-looking skin.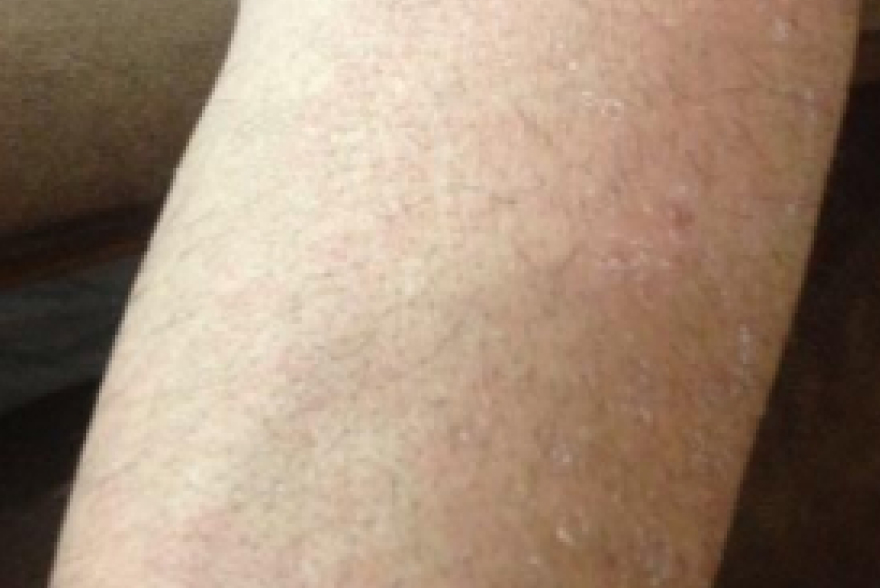 Relieving Skin Redness & Inflammation with the ROSEASE Toolkit
The client started by using our ROSEASE Trial Kit, which he found to be very helpful in alleviating his symptoms. The samples he made use of step by step, include our: Quenching Gel Mask Instant Redness Relief (643M) sample to prepare and soften the skin for treatment (excess to be wiped off); then our rinse-off Myrrh & Frankinsence Deep Purifying Balm (644M) sample to cleanse and deeply purify the skin; after that our leave on Fast Acting Herbal Essence (645M) sample to increase antimicrobial protection and soothe the skin and lastly, our leave on Comfort Soothing Lotion (646M) sample to balance and moisturize the skin. The client found the samples so helpful, he began to make use of the full-size retail products, and when his inflammation had subsided, he requested an additional product he could use to get rid of the scales that had remained on his forehead.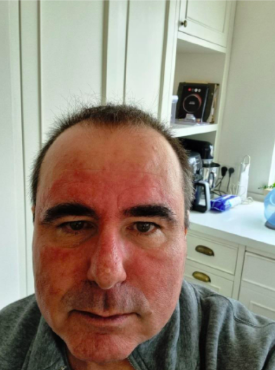 After using the retail products in the ROSEASE Toolkit, including the additional single use of our Exfoliate & Restore Gentle Renewal Lipogel (649M) rinse-off product, the client solved his problem. The scales were completely removed and the client understood that should the scales build up again on the skin's surface (the forehead or any other area), our products are the go-to to alleviate and diminish such symptoms. Being extremely pleased with the results that our toolkit brought him, he sent this picture for us to make use of as a reference for how well our retail products work. In his own words: "Please show this excellent remedy set to your professionals! They will realize what an amazing potential they have on hand".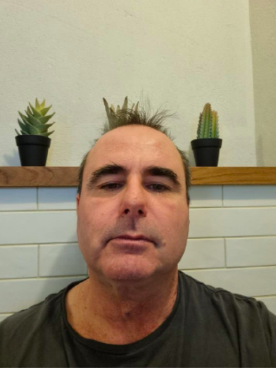 Treating rosacea, manifesting through red, inflamed skin, with the ROSEASE line
Justine Berg owner of Skincare By Justine, Plymouth, MA: The new ROSEASE Rosacea treatment line has been another game changer for my clients. Rosacea is a vascular skin condition that has a few different types and causes. We still don't know enough about all of the causes, but we are learning more everyday. I treat Rosacea as an impaired barrier, and the ROSEASE line has been fundamental in getting my clients skin redness, texture and appearance to calm down significantly. I've also found that my very fair skinned, sensitive clients also see amazing results from the ROSEASE Line even though they do not have Rosacea. One of my clients saw beautiful, calm results after hydro dermabrasion and a week of home care. I am so impressed with this line of products and the results I've achieved with them.
Read more about Justine's experience with us: Why Anna Lotan PRO?